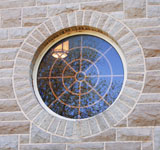 Stone Veneers: cut and finished for use in regular brick-laying patterns, and also available in random shapes and sizes.
A Wide Variety of Surface Finishes: from smooth to rough-hewn.
Lintels, Crosspieces (Headers), and Steps cut to fit exactly, and fully finished ready for installation.
Stone Blocks cut, sized, and finished for walls, fireplaces, etc.
Archways precision cut and carefully finished for ease of installation. Decorative keystones to meet your specifications.