Natural Stone Products
from Rideauview Contracts

Stone Gallery
Rideauview Contracts supplies three types of natural stone: Granite, Limestone, and Sandstone. The innate quality of stone is that no two pieces are identical. This variation gives natural stone an especially attractive appearance when used in building and landscaping.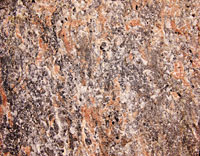 Granite
Granite is an extremely durable igneous rock with a pronounced colouration and a crystalline appearance. It is extremely resistant to weathering and available in a wide variety of colours and textures. Granite can be worked to any desired finish from rough-chiseled to smooth. A flamed finish restores the weathered appearance of the cut stone creating a smooth and durable non-slip surface ideal for pool surrounds and walkways. Granite is frequently employed in water features, especially those feeding ponds and pools to eliminate the problems caused by water erosion of limestone or sandstone which can result in sediment deposits and clouding of the pool.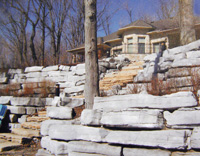 Limestone
Limestone is a sedimentary rock, available in shades of grey from very pale to dark. It is readily split into flags, sheared for ashlar, or worked for steps and lintels. It is durable and ideal for building, paving and landscaping. A flamed finish can also be applied to provide a non-slip surface as an alternative to a bush-hammered surface. Our Frontenac Limestone is available in a variety of shades and formats.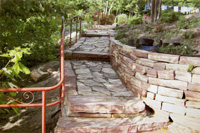 Sandstone
A sedimentary rock formed in layers over the ages, Sandstone has a wide variety of colours, striations, and textures. It is widely used in building, paving, and landscaping. Again, a flamed finish produces a non-slip surface. Our Kingston Sandstone is supplied in a variety of colours (ranging from yellow to red and variegated).
Formats include:
Ashlar (stone veneer) in both Random-rubble and Sawn types
Clean Boulders
Cut Drywall
Five Point
Ledgerock
Flagstone (random shapes and square-cut)
Quarry Drywall
Shaped Blocks (lintels, steps, caps, keystones, etc.)
Tumbled stone (smaller blocks processed to give a smooth and weathered appearance)
Weathered Landscape Stone
Finishes available include:
Bush-hammered
Flamed surface
Natural Weathered
Rough-chiseled
Smooth-sawn
Smooth-matte
Tumbled